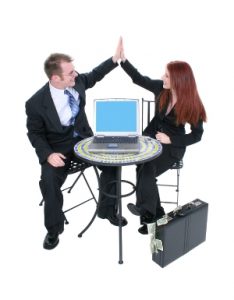 I'm pretty much a full service web design and SEO/M company, located in San Diego. I build informational and E-Commerce sites and in CSS, PHP and HTML. I can also help you promote your small business online with SEO/M and Social Media. I will work with you to create a design that is suitable for you and your needs. I can do so by using modern, easily accessible, standard base design methods; or by customizing a pre-packaged template just for your business; or by creating a unique design from scratch using your sketch or Photoshop file.
One of the hottest things around is WordPress because of its Content Management System (CMS), which enables the owner to update their website without paying for a webmaster to do it, thus saving a ton of time and expense. What more do you want, millions of dollars in development that is open source (free). I can custom design any WordPress to fit your needs.
I have graphic designers that can provide professional logos if you are looking for something special and unique. I have custom created over one-hundred websites that are fully optimized to help you create your brand and send traffic to your website.
Please take the time and view just a few of my accounts; all rank high on many keywords and all have gotten business from their optimized and branded websites.
Web Design
WordPress Bogs/Websites
Optical Eyewear – A blog around everything optical
Optical Resources – Sister website of optical eyewear -wholesale directory about optical
Business Plans – Business consultation and Blog of John Bryant.
Mac Meda Destruction Co – A blog about the infamous La Jolla beach group.
Costa Rica Blog – One of the top Blogs in Costa Rica.
New York Psychotherapy – Edy Nathan, host of the cable show, Psychic Kids, shopping cart of self-heading audios, and Blog.
Green Eco Services –  A blog about everything Eco-friendly
Directories
Costa Rica Directory – The worlds largest Costa Rica Directory.
Shopping Cart
Tutus Pantry is an online and brick and mortar store where the best of nature's ingredients come together … all grown in Hawaii.
Sugar Mom – Shopping cart and Blog on the most famous Sugar Mom.
Small Business
La Jolla Photos – Website of well-known La Jolla and Washington photographer Brian Munoz.
Crystal Valley Vet Services – Offering small animal medicine, surgery, dentistry and acupuncture in Colorado's Roaring Fork, Carbondale, and Crystal Valley Areas.
Owens Valley Acupuncture and Herb Medicine – Owens Valley Herbal Medicine & Acupuncture will provide an experience of acupuncture, therapeutic bodywork, medical massage & therapeutic exercise.
Uplift Maui – Classes, private, and semi-private lessons available for aerial yoga, aerial silks, dance trapeze, and floor yoga
Costa Rica Sportfishing – home of over 250 World Records of Sports fishing, Bobby McGuinnnes
San Diego Rock Band – Stone Horse – One of San Diego top rock and roll bands.
Titan Displays – Custom displays, retail environment and tradeshow booth design, fabrication and project management firm.
Slatlock – use slatwall, providing flexibility to the design of your displays and retail environment. Versatility and function are expanded by enabling you to bolt directly to slatwall without damaging i
La Jolla CPA  – Small CPA  firm in La Jolla.
Criminal Defense Attorney – Top-rated trial and bilingual attorney in San Diego.
Construction
Costa Rica Home Builder – Tom Rosenberger, 20 years of construction experience  Costa Rica.
Taylor Remodeling – Taylor Construction has been serving San Diego since 1996.
Team Painting – Gary has been painting in San Diego for 30 years.
San Diego Lawn Care – providing landscaping services for over 10 years
Mobile Website Design
As the number of mobile Web users continues to grow, the development of a Mobile website will be one of the major ways to stand out in front of your competition and be found by prospective clients. It is said, that mobile search will overtake desktop search by 2017.
Regardless, making your website viewable via mobile device will help you get an edge on your competition.
Contact Us
Whether you are looking to get a new website design for your business or whether you are looking to give your old site or logo a touch-up or a brand new look, I'm here to accommodate your needs. I can show you how easy it is to have your own business BLOG, demonstrate our affordable E-commerce solutions and explain how they can help you sell more with less effort. We can also teach you how to increase your site traffic, provide online tutorials for CMS systems, and provide reasonable hosting and maintenance.